# 1 Lonnie J. Hannah II center 38
Mansfield, Texas
# 2 Brian Ruhe defense 27
Chicago, Illinois
# 4 Sylvester (Sly) Flis defense 27
Chicago, Illinois
# 5 Matt Coppens winger 30
Richton Park, Illinois
# 7 James Dunham defense 38
Garland, Texas
#12 "Kip" St. Germaine defense 36
Sagamore, Massachusetts
#14 Patrick Byrne winger 36
Chicago, Illinois
#15 Jack Sanders winger 43
Pekin, Illinois
#19 Josh Wirt winger 17
Brush Valley, Pennsylvania
#20 Dave Conklin center 46
La Crosse, Wisconsin
#22 Dan Henderson defense 37
Chicago, Illinois
#23 Joe Howard winger 35
Brockton, Massachusetts
#33 Robert (Pat) Sapp goalie 48
Rockwall, Texas
#44 Chris Manns winger, 21
Buffalo, New York
#67 Manuel Guerra goalie 34
Minneapolis, Minnesota
The 2002 United States Paralympic
Sled Hockey Team
Coach Rick Middleton
A 14-year veteran of the NHL, Rick "Nifty" Middleton brought an inexhaustible knowledge of hockey to the U.S. Sled Hockey coaching position.
Rick began his professional hockey career as a first-round draft pick for the New York Rangers in 1974. He capped off his debut season with rookie of the year honors for the Providence Reds in the American Hockey League. He took his skills as a high-scoring winger to the Boston Bruins in 1976, completing a hat trick in his debut game in a Boston uniform. By 1985, he had taken his place as the team's co-captain. A three-time NHL All-Star, Rick skated in over 1000 regular season games and over 100 playoff matches, scoring almost 500 goals during his impressive career.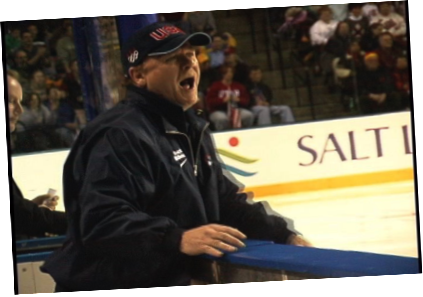 2022
U.S. Olympic & Paralympic
Hall of Fame
On the 20th anniverary of its historic gold medal win, the 2002 U.S. Paralympic Sled Hockey Team was inducted into the U.S. Olympic & Paralympic Hall of Fame.
The ceremony took place at the Colorado Springs Olympic & Paralympic Museum in June. The sled hockey team was the first Paralympic team to receive Hall of Fame honors.
Goalie Manuel Guerra accepted the award on behalf of the team:
https://www.youtube.com/watch?v=pavvF3HrIGY